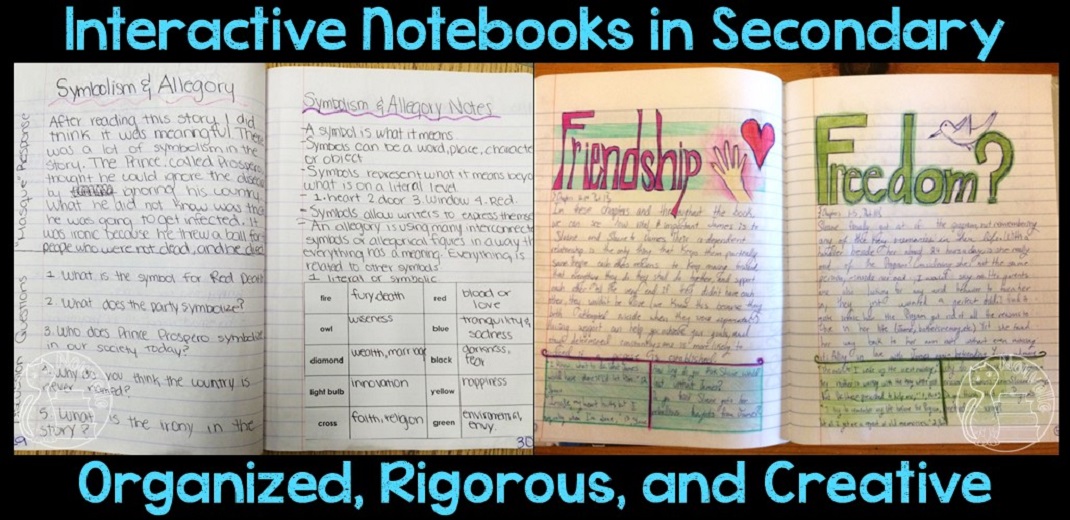 We just finished our Short Story unit and WOW, what an amazing time! I'm using Interactive Notebooks for the first time this year with my 9th graders, and so I've been converting/reimagining a lot of my Short Story lessons for ISNs. It's been a major treat for me, so I'm here today to talk about how that's going.
Interactive Notebooks in ELA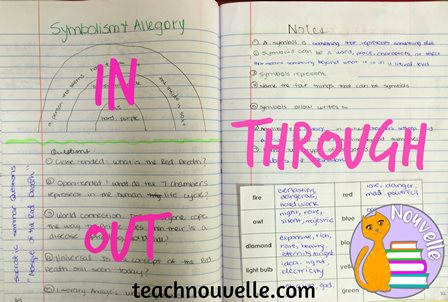 I try to set up every lesson using the In-Through-Out model. For me, this means the following breakdown: "IN" is a bellringer; "THROUGH" is notes, in-class group work, and graphic organizers; and "OUT" is independent practice or homework. This has really helped focus the work I give students – I have to choose the most important part, because it's got to fit on the bottom half of the left page. That means that Interactive Notebooks actually decrease busy work in my classroom – hooray!
I have also facilitated the notebooks in my classroom by taking pictures of my model interactive notebook for our class website. I use sticky notes to put the various task descriptions on the page, and I go ahead and paste in all blank organizers for students.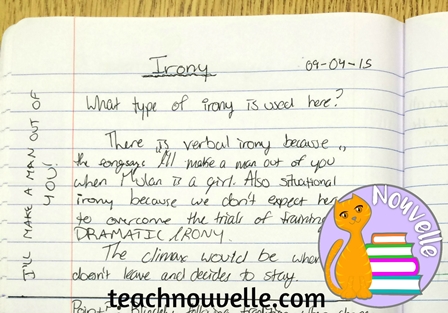 I also got to teach my favorite Disney song as part of an Irony lesson this year. "I'll Make a Man Out of You" from Mulan is the perfect bellringer to get kids thinking and talking about dramatic and situational irony. Also, it's got a really clear plot structure, so you can go ahead and review that with students, too.
I actually flipped my Irony lesson for the first time this year, and linked Christopher Warner's irony videos on our class website. I gave students guided notes to complete on the right side of that page for homework, and then they came to class ready to discuss (and read "The Lottery", of course!).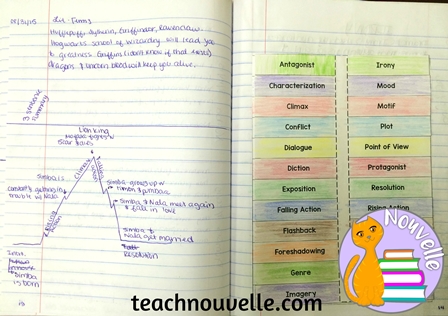 I also tried my hand at creating a foldable, popping my list of Lit Terms into an Interactive Notebook-ready list. My students loved these, and it helped them study for a Literary Devices Quiz. I went ahead and updated all of the ELA Vocabulary products in my TpT store to include this option.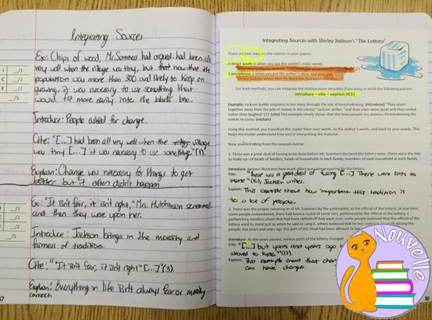 Lastly, I converted one of my favorite lessons into an Interactive Notebook spread. After reading "The Lottery", we practice embedding direct quotes and paraphrases smoothly into paragraphs using the Introduce-Cite-Explain method. We do scaffolded practice, and then students work on their own to integrate two quotes. I even created Ready Rubrics to go in the margins of the notebook so that we can do peer and teacher feedback.
UPDATE: You can now find all of my Short Stories lessons in an Interactive Notebook format over at my TeachersPayTeachers store. This unit is ready-to-go with ideas, plans, resources, handouts, student samples, projects, quizzes, and rubrics.
What are you up to in your Interactive Notebooks? I'd love to hear from you!