Hello, friends! I'm here today to announce a big dream: I want to read the world. I plan to read a book from every country in the world, and record my progress here. I believe that, as a teacher, I need to read widely and often, and be able to introduce students to works and worldviews they haven't experienced yet. What could better equip me for this mission than having a world full of books in my heart? Onward to Reading the World!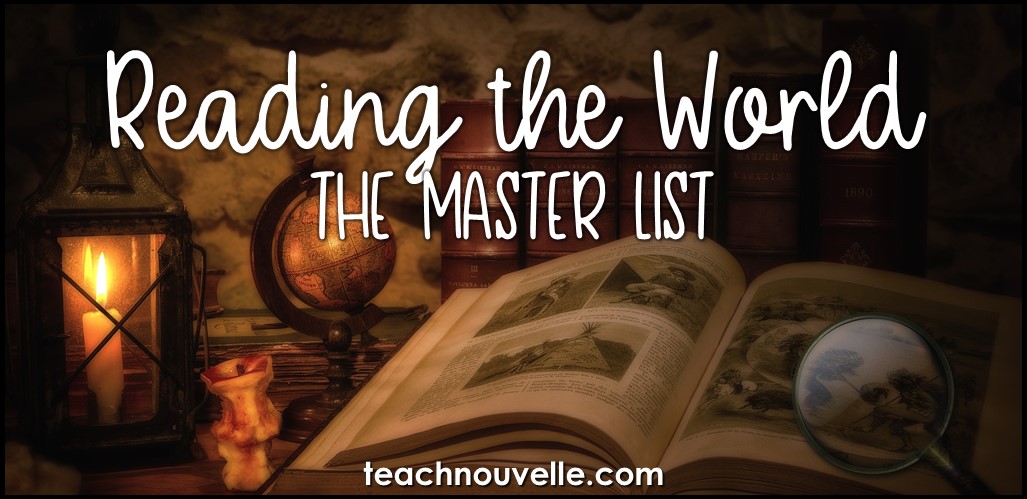 This all started for me when I read Tamika Gibson's Dreams Beyond the Shore and learned much more about Trinidad and Tobago than I ever knew I didn't know. This really revealed a major blindspot in my life as a reader, and I set out to find a fix.
It turns out, this is not a new idea. Check out this TED Talk by Ann Morgan, a UK author who undertook the challenge in 2012.
It's going to be difficult, but worth it. I read English, French, German, and Spanish, so I hope to be able to cover a lot of ground that way. Still, there's a lot out there that hasn't been translated.
This is going to be my cornerstone post for this project. As I answer some hard questions, I'll link to those answers here. As I read and review books, I'll add the links here. As people leave me recommendations, I'll add them here.
The "Rules"
Use a very generous list of countries. The biggest reason for this is that I've lived in Puerto Rico and worked with Kurds, and both of these people deserve to have their own literature amplified. The first is a territory and the second is a stateless nation, but they both need to be on the list.
Prioritize authors "from" the country. I'm going to let authors self-identify on this one, because anything else is just me applying my American judgement, and that defeats the whole purpose of reading the world. There are a lot of reasons a person may not live in their native land, or reasons they may cling to the national identity of their parents. I've worked with Afghan kids born in refugee camps – are they not Afghan?
Prioritize fiction set in the country, or non-fiction about national issues. I'll probably also read some poetry, because I love it.
Prioritize marginalized voices.
Prioritize classroom application potential. I'm reading for myself, but I'm also reading for my students. I want to be able to put books in their hands, so I'm going to review from my teachery perspective as always.
Reading the World List
Read
Recommended
Stand-in*
Afghanistan
A Thousand Splendid Suns (Khaled Hosseini)
Albania
Chronicle in Stone (José Eduardo Aqualusa)
Algeria
Memory in the Flesh (Ahlam Mosteghanemi)
American Samoa
Andorra
Angola
Anguilla
Antigua & Barbuda
Annie John (Jamaica Kincaid)
Argentina
The Motorcycle Diaries (Che Guevara), Ficciones (Jorge Luis Borges)
Armenia
Aruba
Australia
Graffiti Moon* (Cath Crowley)
Austria
The Story of the Trapp Family Singers (Maria Von Trapp)
Azerbaijan
Bahamas, The
Bahrain
Bangladesh
Barbados
Belarus
Belgium
Belize
Benin
Bermuda
Bhutan
Bolivia
Bosnia & Herzegovina
Zlata's Diary* (Zlata Filipovic)
Botswana
When Rain Clouds Gather (Bessie Head)
Brazil
British Virgin Is.
Brunei
Bulgaria
Burkina Faso
Burundi
Cambodia
Cameroon
Canada
The Handmaid's Tale* (Margaret Atwood)
Cape Verde
Cayman Islands
Central African Rep.
Chad
Chile
Cuidad de las Bestias* (Isabel Allende), Twenty Love Poems (Pablo Neruda)
China
Empress Orchid (Anchee Min)
Colombia
A Hundred Years of Solitude (Gabriel García Marquéz)
Comoros
Congo, Dem. Rep.
Congo, Repub. of the
Cook Islands
Costa Rica
Cote d'Ivoire
Croatia
Cuba
The Surrender Tree (Margarita Engle)
Cyprus
Czech Republic
Denmark
Djibouti
Dominica
Dominican Republic
East Timor
Ecuador
Egypt
L'Enfant Multiple* (Andrée Chedid)
El Salvador
Equatorial Guinea
Eritrea
Estonia
Ethiopia
Cutting for Stone (Abraham Verghese)
Faroe Islands
Fiji
Finland
France
(Tons here already — I'll dig up titles)
French Guiana
French Polynesia
Gabon
Gambia, The
Gaza Strip
Georgia
Germany
Die Fliessende Koeningen* (Kai Meyer), Tintenherz* (Cornelia Fünke), Die Blechtrommel (Günter Grass)
Ghana
Gibraltar
Greece
Greenland
Grenada
Guadeloupe
Guam
Guatemala
I, Rigoberta Menchu (Rigoberta Menchu)
Guernsey
Guinea
Guinea-Bissau
Guyana
Haiti
Honduras
Hong Kong
Hungary
Iceland
India
The God of Small Things (Arundhati Roy)
Indonesia
Iran
Persepolis* (Marjane Satrapi), Reading Lolita in Tehran (Azar Nafisi)
Iraq
Thura's Diary (Thura Al-Windawi)
Ireland
The Accident Season* (Moira Fowley Doyle)
Isle of Man
Israel
Italy
Invisible Cities (Italo Calvino)
Jamaica
Everything, Everything* (Nicola Yoon)
Japan
The Housekeeper and the Professor (Yōko Ogawa)
Jersey
Jordan
Kazakhstan
Kenya
Kiribati
(Kurdistan)
Kuwait
Kyrgyzstan
Laos
Latvia
The Golden Horse (Rainis), Soviet Milk (Nora Ikstena)
Lebanon
Lesotho
Liberia
Libya
Liechtenstein
Lithuania
Between Shades of Gray** (Ruta Sepatys)
Luxembourg
Macau
Macedonia
Madagascar
Malawi
Malaysia
Maldives
Mali
Malta
Marshall Islands
Martinique
Mauritania
Mauritius
Mayotte
Mexico
The Hummingbird's Daughter (Louis Alberto Urrea)
Micronesia, Fed. St.
Moldova
Monaco
Mongolia
Montserrat
Morocco
Mozambique
Myanmar
Namibia
Nauru
Nepal
Netherlands
Netherlands Antilles
New Caledonia
New Zealand
Nicaragua
Niger
Nigeria
Under the Udala Trees (Chinelo Okparanta)
N. Mariana Islands
North Korea
Norway
Growth of the Soil (Knut Hamsun)
Oman
Pakistan
I Am Malala
Palau
Palestine
(Mahmoud Darwish), (Suheir Hamad)
Panama
Papua New Guinea
Paraguay
Peru
Philippines
Poland
Zlateh the Goat and Other Stories (Isaac Bashevis Singer), A Treatise on Poetry (Czeslaw Milosz)
Portugal
The Cave (José Saramago)
Puerto Rico
War Against All Puerto Ricans** (Nelson Antonio Denis)
Qatar
Reunion
Romania
Night* (Elie Weisel), It Was Today (Andrei Codrescu)
Russia
A Day in the Life of Ivan Denisovitch* (Aleksandr Solzhenitsyn)
Rwanda
Saint Helena
Saint Kitts & Nevis
Saint Lucia
St Pierre & Miquelon
Saint Vincent and the Grenadines
Samoa
San Marino
Sao Tome & Principe
Saudi Arabia
Senegal
Serbia
Seychelles
Sierra Leone
Singapore
Slovakia
Slovenia
Solomon Islands
Somalia
South Africa
When the Sea is Rising Red* (Cat Hellisen), Cry, the Beloved Country* (Alan Paton)
South Korea
The Vegetarian (Han Kang)
Spain
The Shadow of the Wind (Carlos Ruiz Zafón)
Sri Lanka
Sudan
Suriname
Swaziland
Sweden
A Man Called Ove (Frederick Backman)
Switzerland
Syria
Taiwan
Tajikistan
Tanzania
Thailand
Togo
Tonga
Trinidad & Tobago
Dreams Beyond the Shore* (Tamika Gibson)
Tunisia
Turkey
Turkmenistan
Turks & Caicos Is
Tuvalu
Uganda
Ukraine
United Arab Emirates
United Kingdom
(I'll find a title to drop here, but you know… like everything ever.)
United States
(Also everything ever)
Uruguay
Uzbekistan
Vanuatu
Venezuela
Vietnam
Inside Out and Back Again* (Thanhha Lai)
Virgin Islands
Wallis and Futuna
West Bank
Western Sahara
Yemen
Zambia
Zimbabwe
*These are books finished before the beginning of the challenge in November 2017. I'll loop back around to these at the end, perhaps.
**These are books that don't meet the requirement of an author self-identifying as a national. I'll continue to look, and add to these as needed.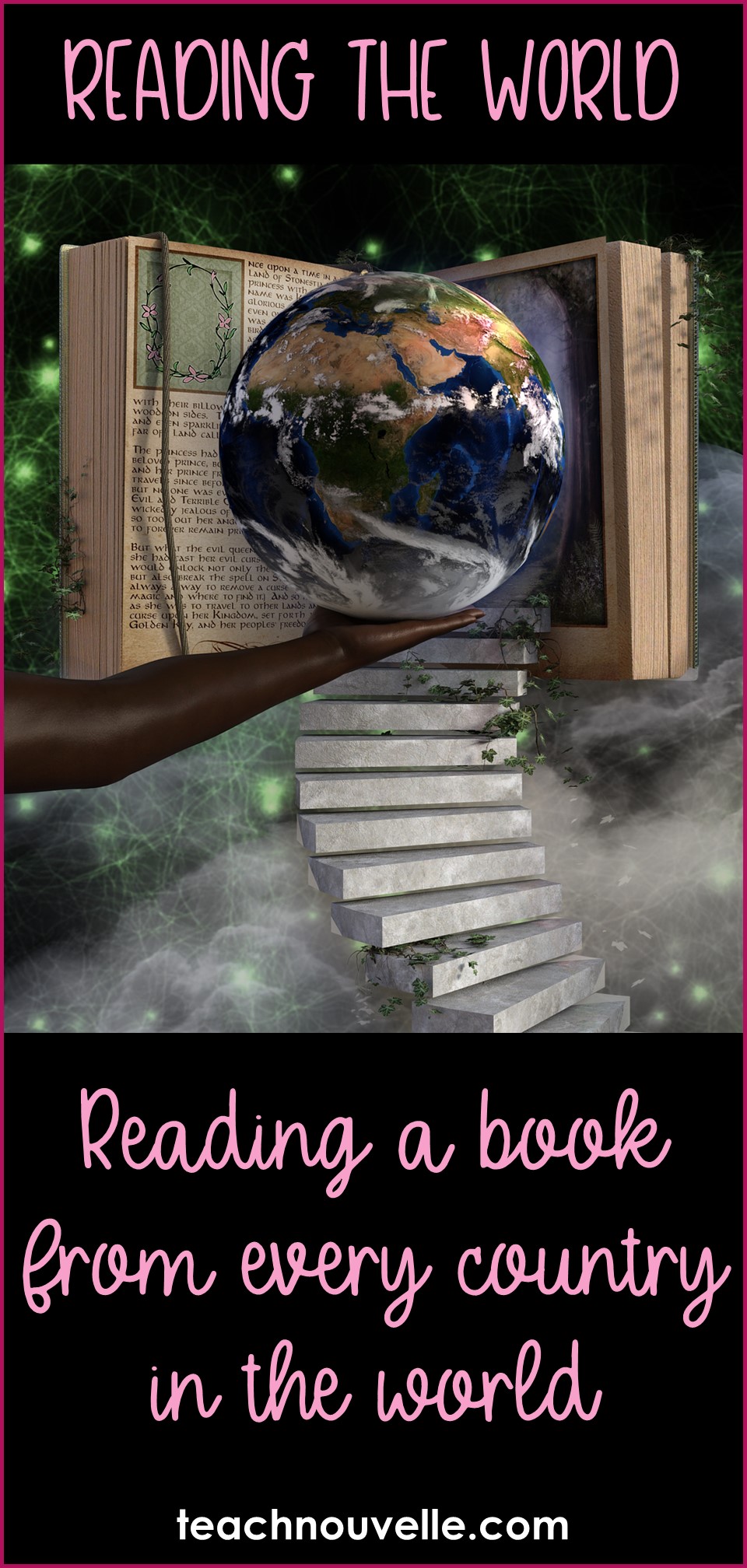 Want to Help with Reading the World?
If you'd like to donate a book, you can find my Amazon wishlist here. I will pass all donations along to a classroom library or another person Reading the World, and you can let me know your preferences. 🙂 I'd also love to organize a snail-mail book exchange or book loan with you, and you can reach out via email to nouvelle.ela@gmail.com
That's it! I'd love to hear from you! Please leave me your recommendations in comments. 🙂